You got me to 85 followers over the weekend on Twitter, so here are the choices you will have for the 100th follower freebie! (Tell your friends, then muscle in on number 100 if you haven't followed already.)
Follower 100 will receive a 5 by 7 (postcard size) Print of one of the awful paintings I'm going to post on this blog signed by me. They will also receive a matted and signed copy of one of my poems that I will also list below. The poem selections are all from my book Electronically Yours which will be available in my Etsy shop soon. The book is going to be $10.00 each. $5.00 of each sale will be donated to the April's Army charity fund. Anyway...
So here's the thing. I used to be good at painting. In high school. I really applied myself back then. Now I don't care enough to apply myself. Hence, the crap you see below. The pics are taken from my iphone because I can't find the double a batteries I bought last week and I need to get this blog up today. So in actual reality, they're not as blurry.
You could get the "Market Fresh Bunny" painting. It will be on the background I painted when you get it:
This one I like to call "Spring Swing" my daughter has been watching a lot of Tweety Bird lately. I painted this for her room and she calls it a "baby duck".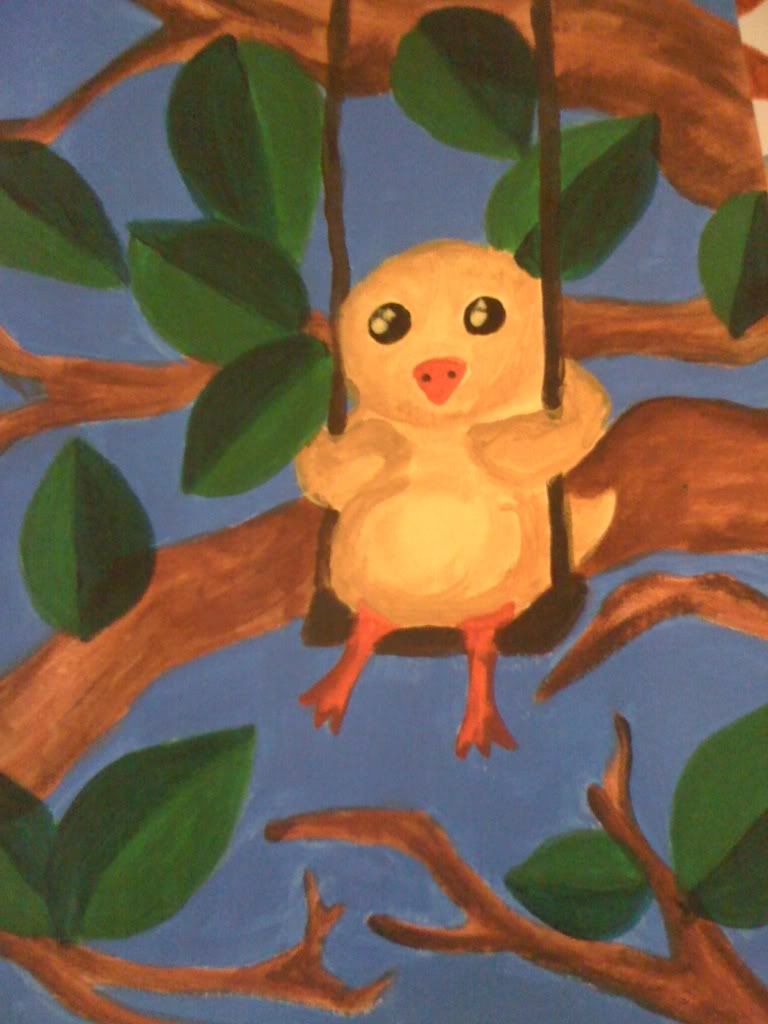 This one is called "Bubbles the Octopus" I wanted to paint a purple octopus...so sue me.
This one I threw in for the hell of it. It's a collage I made out of magazine clippings and tin foil. Hey! You could call it "upcycled!" (It was an art project for a college class.)
And this one is a pencil drawing of Fidget and his owner, Ami. Little characters I draw that I made up. This one will be cleaned up, and the line art will be put in digitally by the time you get it. The text says "Fidget is a well loved bunny."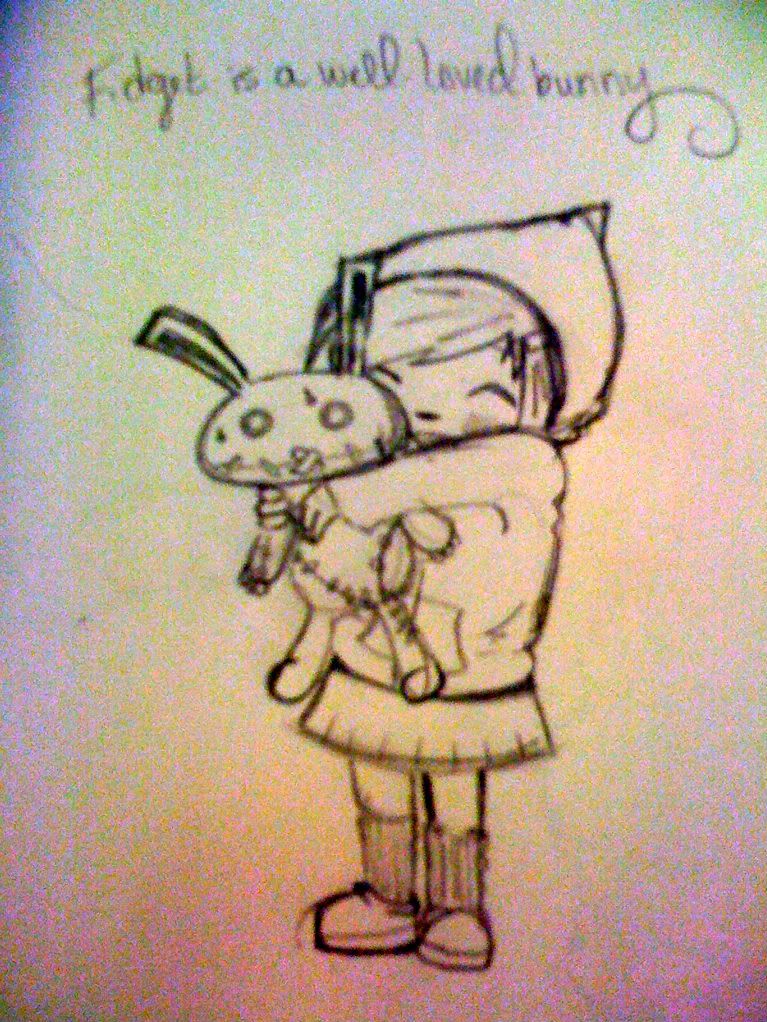 AND on to the poetry...Read them, pick the one you like best.
in cramped, rectangular spaces
the one shared sentiment.
tapping the caffeine lines in my veins
tugging heavy, clutter-laden bags
when we no longer had the time
torn in fingers aching with the pressure
of a thousand phone numbers
and a thousand smokey voices
siphoning through the receiver
And she drips with the water
falling from the snap-hungry jowls of a hyena
The sensation makes me cringe.
Like the boys teetering on bar stools
I stare at the rim of my glass
gulping again a pine-flavored concoction
Alrighty then. So there are your choices. Keep following! (We're at 91, only 9 to go!)
Thank you guys for actually giving a shit about what I do. It's weird, but I like it!
<3Saz